The latest numbers regarding women in business can't be ignored. There are 9.1 million woman-owned businesses nationwide, employing 7.9 million employees and generating $1.4 trillion in sales, according to the National Association of Women Business Owners. While these numbers are encouraging for female entrepreneurs, there's still more to learn about who these women in business are, what factors are driving their businesses forward and the biggest challenges they face.
In partnership with online lending marketplace Lending Club, Guidant Financial launched its 2018 State of Small Business survey to gain deeper insight into small business trends, especially for women-owned businesses. Over 2,600 current and aspiring entrepreneurs responded. Here's what we found about women in business, their demographics and how they differ from men.
---
Women in Business: Meet the Women of Main Street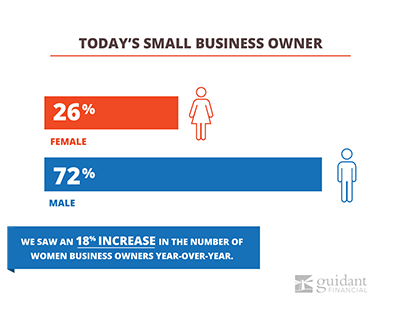 According to our survey, women accounted for 26 percent of current business owners, an 18 percent increase compared to 2017. While this is a strong indicator that more women are chasing their dreams of business ownership, it's still far from equal representation.
The top reasons for going into business for both men and women included wanting to pursue their passions (No. 1 for women), wanting to be their own boss (the top reason for men), a dissatisfaction with corporate America and/or being laid off. Twelve percent of females also noted 'not ready to retire' as their motivation for starting a business, which didn't make it in the Top 5 reason for men.